Grow, nourish, sustain. Together. Our actions are our future.
#WorldFoodDay2020 #FAO75 #Foodheroes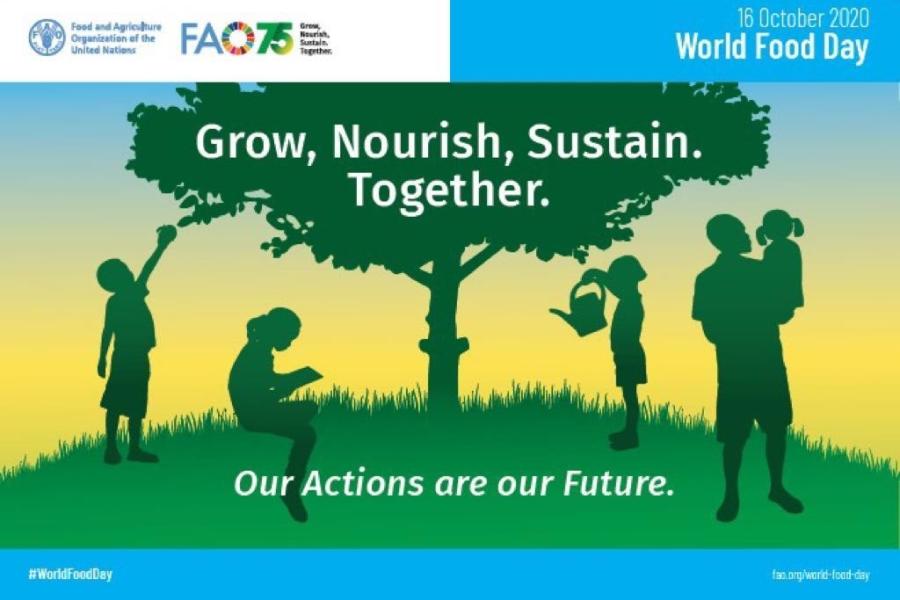 No one will argue that the 2020 has not been a typical year. Globally, countries continue to battle the widespread effects of the COVID-19 pandemic.  We are definitely facing turbulent and unusual times.  This is the context in which we mark World Food Day (WFD) 2020, which also marks FAO's 75th anniversary.  The focus is captured in the theme "Grow, nourish, sustain. Together. Our actions are our future." World Food Day and FAO75 are aligned with the spirit of the UN's 75th commemoration, also occurring also this year.
The world celebrates World Food Day each year on 16 October to commemorate the founding of the Organization in 1945. The UN FAO was established in the period of the devastation wreaked by World War II.  One of the first objectives was to help global food production systems to recover their capacity to feed the world.  This was a huge undertaking at a global scale.  The work of our collective predecessors at that time, was able to successfully restart and improve food production.  Ironically, today, 75 years later, the world is facing a pandemic, which has exposed the vulnerabilities of our global food systems such as the high dependence on imported foods for many countries and inequality in accessibility to nutritious diets which will support healthy, productive lives. 
So, this year's campaign emphasizes global cooperation and solidarity to make sure that the threats of COVID-19 to food security and agricultural livelihoods are addressed It highlights the need to help the most vulnerable to get access to healthy food and to regain their livelihoods quickly.  It recognizes the need for collaborative and transformative action at the levels of countries, communities, households and individuals.  It is also an occasion to sensitize the public on the importance of ensuring that our food systems meet our nutrition and dietary needs.  This includes being more efficient in the way that we produce, transform, trade, consume and reduce wastage of our food.  More than ever, innovation and shared vision should be coupled with critical thinking and bold steps, in order to take advantage of the opportunities that are also available to us. 
This year, the Food and Agriculture Organization in Guyana has been able to partner with sector agencies and other development partners to build capacity in several areas which aligned well with this year's theme. These include climate-smart farming solutions, land development and management initiatives,  promoting lifelong healthy eating habits through home grown school feeding programmes, building capacity in agriculture to unlock climate financing,  promoting better access to markets and strengthening opportunities within value chains and providing expertise for developing  inland fisheries and aquaculture.
As part of this year's celebration of Agriculture Month and World Food Day, the FAO is partnering with the Ministry of Agriculture to host several activities, one of which is the 'World Food Day Exhibition' on October 16. 
The COVID-19 global health crisis has been a time to reflect on the things we truly cherish.  It has exposed our individual and common vulnerabilities, but it has also demonstrated our resolve and resilience.  Food is the essence of life and the bedrock of our cultures and communities. Preserving access to safe and nutritious food is and will continue to be an essential part of the response to the COVID-19 pandemic, particularly for poor and vulnerable communities, who are hardest hit by the pandemic and resulting economic shocks. In a moment like this, it is more important to support our food heroes - farmers and workers throughout the food system who are making sure that food makes its way from farm to table even amid disruptions posed by the current COVID-19 crisis.
TIME TO BUILD BACK BETTER!
What we can do: 
As countries begin to develop and implement COVID-19 recovery plans, it is an opportunity for us in Guyana to:
Adopt innovative solutions based on scientific evidence so that we can build back better and improve food systems making them more resistant to shocks.
Support the most vulnerable, to recover from the crisis, and to make food systems more resilient and robust so they can withstand increasing volatility and climate shocks.
Deliver affordable and sustainable healthy diets for all, and decent livelihoods for food system workers.
UN entities involved in this initiative
FAO
Food and Agriculture Organization of the United Nations