In Guyana, the United Nations System works with a range of partners to deliver the UN Caribbean Multi-Country Sustainable Development Framework (MSDCF) 2022-2026. The work of UN Agencies, Funds, and Programmes active in Guyana (the UN Country Team) is organised in four pillars: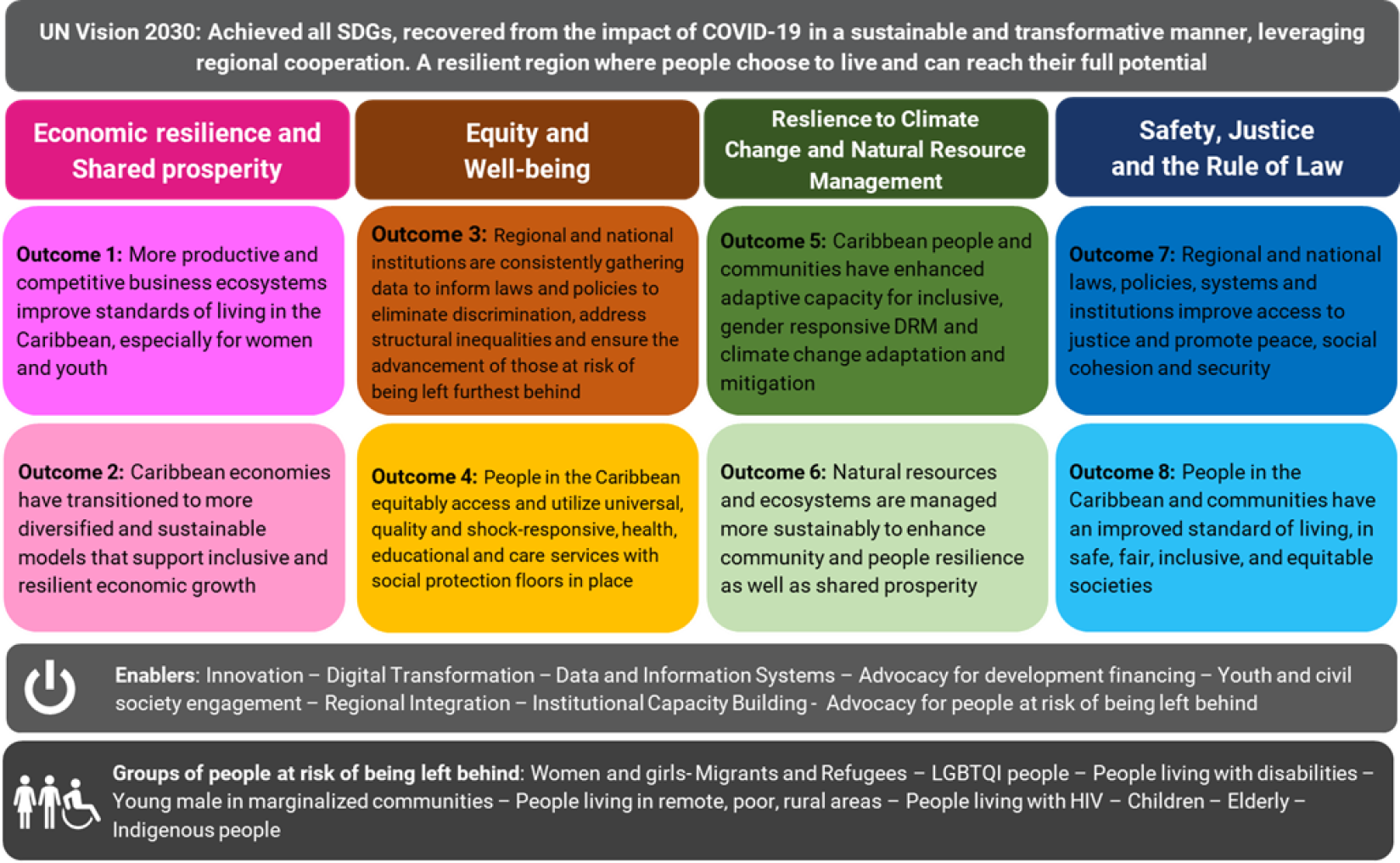 Across the four pillars, the UN works with national institutions and stakeholders to leave no one behind and promote gender equality.
The UN Country Team works together to ensure the delivery of tangible results in support of Guyana's development agenda. Guyana published its Voluntary National Review of progress against the SDGs in 2019. The country has an SDG Global rank of 104 out of 156. The UN System has helped Guyana achieve a number of development milestones.
Milestones
1
Shared prosperity and economic resilience: Improved the livelihoods of over 11,000 persons after 1,100 square miles of land in Regions 2, 7, and 9 were surveyed for titling to Amerindian communities. Security of tenure from land titling enables communities to utilise and invest in resources and activities for their livelihoods.
3
Equality, well-being, and leaving no one behind: Over 170,000 children benefitted from continuity of learning support after being affected by school closures as a result of the COVID-19 pandemic.
4
Resilience to climate change and shocks, and sustainable natural resource management: Supported adoption of the National Strategy for Disaster Risk Reduction and digitalization in agriculture food systems to improve monitoring of 160 tonnes of rice produced by 6,000 farmers.
5
Peace, safety, justice, and the rule of law: Guyana passed a juvenile justice bill, introduced the country's first children's court and strengthened access to justice through the availability of hearing rooms and legal aid services for children in detention, opened three new specialized sexual offences courts and a dedicated family court, produced a Code of Conduct for Prosecutors, and developed standard procedures for investigating human trafficking and prosecuting its perpetrators.
The Sustainable Development Goals in Guyana
The Sustainable Development Goals are a global call to action to end poverty, protect the earth's environment, and ensure that people everywhere can enjoy peace and prosperity. Kindly note that the data visualizations show an aggregate of the Caribbean. To view the disaggregated data for Guyana, please select it from the dropdown menu.