UN System supports national COVID-19 response
The UN is supporting Guyana's efforts to suppress the COVID-19 virus and mitigate the socio-economic impacts of the global coronavirus crisis.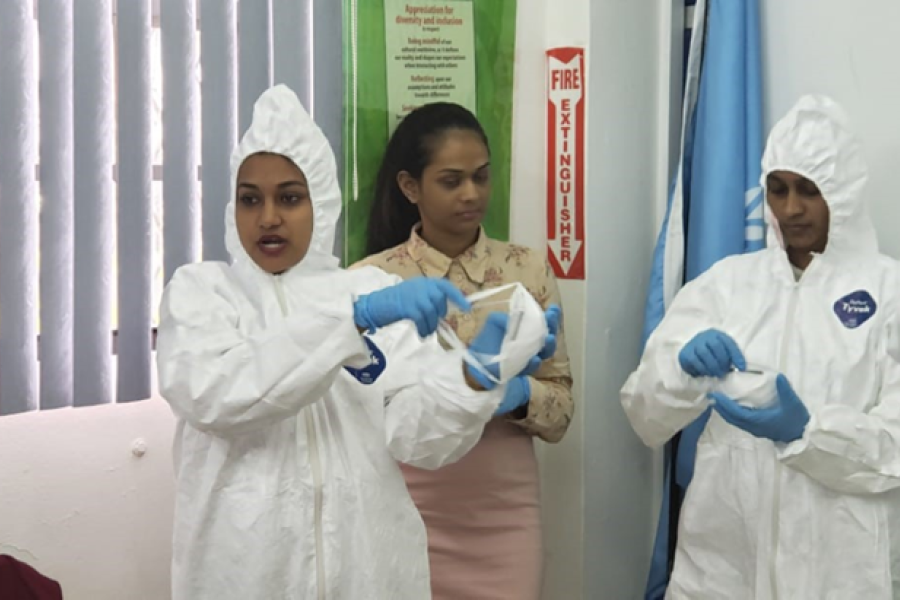 Photo | PAHO/WHO Guyana
Work is ongoing through humanitarian emergency response, through direct support to the country's health plan, and via the implementation of a cohesive socio-economic response.
As of August 2020, the UN had mobilized US$15.2 million in funds to support Guyana's humanitarian, health, and socio-economic response to COVID-19. The UN has also identified an additional US$4.4 million in urgent funding requirements.
Humanitarian Response Plan (HRP)
UN Agencies, Funds and Programmes support humanitarian response in Guyana through the Venezuela Regional Migrants and Refugee Programme (RMRP). Of nearly 5 million Venezuelans displaced, Guyana hosts around 22,000 (equivalent to 3 percent of Guyana's domestic population), as well as other displaced persons from the Caribbean region. Support during the COVID-19 crisis includes the provision of emergency food and non-food assistance, and the delivery of essential support services, including GBV prevention and psycho-social interventions for segments of the migrant population at particular risk (notably children, women involved in sex work, persons who have been trafficked).
Country Health Preparedness and Response Plan (CPRP)
The UN's support offer to Guyana has been led by PAHO/WHO, which has worked with the Ministry of Public Health to implement a 10-pillar Country Preparedness and Response Plan (CPRP). With its sister Agencies, Funds and Programmes, PAHO/WHO is helping Guyanese authorities with the overall coordination of the health response; building public awareness of COVID-19 transmission risk; preventing new infections and controlling localized outbreaks; strengthening case surveillance through testing, tracking and tracing new cases; and providing operational support and logistics.
Socio-Economic Response & Recovery (SERRP)
A total of 20 UN Agencies, Programmes and Funds are working together with Guyanese authorities to design and implement a comprehensive COVID-19 socio-economic response and recovery plan. The plan follows the five pillars of the SG's model response, namely (i) health first, (ii) protecting people; (iii) economic response & recovery; (iv) macroeconomic response and multilateral partnerships and (v) social cohesion and community resilience.
The SERRP complements the HRP and CPRP. It takes medium-term approaches to address the socio-economic challenges raised by COVID-19. To date, some 120 projects/interventions have been identified to support Guyana's socio-economic response efforts.
Projects are designed to: protect and extend non-COVID health services; use social protection systems to help people who need it most; ensure that children do not suffer irretrievable setbacks in their education; uphold the rule of law and guarantees of basic human rights; conceive the fiscal stimulus measures that will save businesses and employees from closure and redundancy; imagine and implement the long-term measures to ensure Guyana's future economy is more environmentally sustainable and more resilient than before; and ensure communities and citizens have a stake in Guyana's future development model.
UN entities involved in this initiative
FAO
Food and Agriculture Organization of the United Nations
IFAD
International Fund for Agricultural Development
IOM
International Organization for Migration
PAHO
Pan American Health Organization
UN Women
United Nations Entity for Gender Equality and the Empowerment of Women
UNAIDS
Joint United Nations Programme on HIV/AIDS
UNDP
United Nations Development Programme
UNEP
United Nations Environment Programme
UNHCR
United Nations High Commissioner for Refugees
UNICEF
United Nations Children's Fund
WHO
World Health Organization
Other entities involved in this initiative