UN provides sustainable power supplies for community-based radio in Region 9
The power supplies enabled the regional radio station to share COVID-19 information to 15 indigenous communities.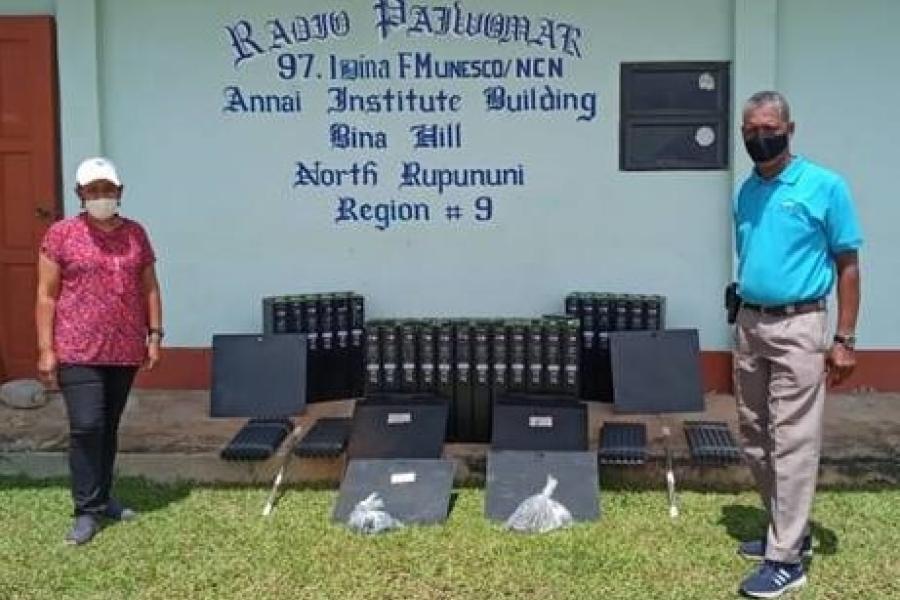 Radio Paiwomak at the Bina Hill Institute in Annai, Region 9 is a critical communications link for 15 indigenous communities of the Northern Rupununi.
It has become an essential lifeline in combatting COVID-19 in these communities.
The radio station ceased broadcasting early in 2020 after the previous batteries became inoperable. To help ensure timely communication of COVID-19 information and facilitate community leaders and members to cope with the new normal, the UN system provided 12 solar batteries to the station.
The new batteries, costing GYD1,275,126.80 (USD6,154.08), enabled the resumption of transmissions, including vital COVID-19 safety and security measures. Region 9 currently has 403 confirmed COVID-19 cases.
Contributing UN agencies were the International Organization for Migration (IOM), the UN Refugee Agency (UNHCR), the Pan American Health Organization/World Health Organization (PAHO/WHO), and the Food and Agriculture Organization of the United Nations (FAO).
Radio Paiwomak is the first hinterland-based community radio station in Guyana run by the Northern Rupununi District Development Board (NRDDB).
According to Chair of the NRDDB, Jacqueline Allicock, the solar batteries have aided immensely in updating surrounding villages on the status of the COVID-19 cases at national and regional levels. Allicock explained that updates are shared during the morning, midday, afternoon and evening hours in English, Macushi and Wapishana, with information from coming the Ministry of Health. This information includes facts like the rates of infection, number of active and recovered cases, and official COVID-19 regulations.
"We are in a better position now…. Now that we have the batteries, people are more comfortable being at home in the evening and receiving [updates]," said Allicock, adding that this has been particularly helpful for senior members of the villages. However, she stressed the need for continuous updates from official bodies, like the Ministry of Health, since without them residents feel like the pandemic is not as serious as it was. Despite this, Allicock explained that Radio Paiwomak continues to provide official COVID-19 guidelines, like maintaining physical distance between persons, wearing masks when in public, and handwashing to help curb the spread of the virus.
About UN Guyana
In Guyana, the United Nations system works with a range of partners to deliver the UN Caribbean Multi-country Sustainable Development Framework (2017-2021) that is directly aligned with the 2030 Agenda for Sustainable Development and the Sustainable Development Goals, encompassing People, Prosperity, Peace, Planet and Partnerships and embracing equality, diversity and human rights - leaving no one behind. The UN System in Guyana comprises 19 UN agencies, funds, and programmes, and is led by the UN Resident Coordinator to Guyana, Ms. Mikiko Tanaka. 
UN entities involved in this initiative
FAO
Food and Agriculture Organization of the United Nations
IOM
International Organization for Migration
PAHO
The Pan American Health Organization
UNHCR
United Nations High Commissioner for Refugees
WHO
World Health Organization